Haus Fuchs - Jochberg (near Kitzbühel)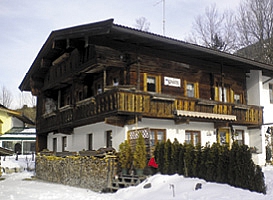 Haus Fuchs
5 bedrooms, 10-14 persons
Centre/Lifts: 350m
Skiarea Skigrossraum Kitzbühel
800-2000 meter
64 lifts, 160 km of slopes
Room composition
2 x 2 pers. room with shower
2 x 2-3 pers. room with shower
1 x 2-4 pers. room with shower
Jochberg (925 m) is an old-fashioned, quaint mountain town with several bars and restaurants. If you're looking for a bustling night out after skiing, look no further than the more worldly Kitzbühe, which is no more than 10 minutes away. Here you will also find the 'Aquarena', a huge aquatic paradise with a large sauna.
For a few years now, the skiing towns of Jochberg and Pass Turn have been connected to Kitzbühel and Kirchberg, making for a single interconnected skiing area. Not only skiers and snowboarders will enjoy this area. Those more inclined towards 'inner peace' will find more than enough opportunity in the area's 120 km cross-country and hiking network.
"Jochberg, a cosy-looking town"

The skiing town, with its scattered farms and chalets, is located in a valley surrounded by forested mountains. The Jochberg skiing area has something for everyone. There is a practice field and a skiing school for beginners and beautiful descents through forests for the more experienced skiers.

Haus Fuchs
is an atmospheric chalet built in a farmhouse style. It is located in a sunny little valley on the edge of Jochberg. A 5-minute walk along a hiking path will take you to the newly-built 2013 cable car and the town's centre.
After an exhausting day
it is amazing to just relax in the cosy Stube with a typical Austrian woodstove. The 5 well-fitted bedrooms (all with private shower) are found on the chalet's first floor. Here there are also 2 shared floor toilets. On the ground floor there is a separate bathroom with bath and another toilet.