Haus Lattacher I - Stuben am Arlberg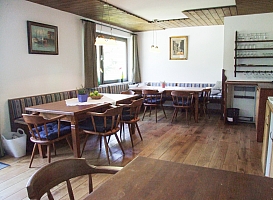 Haus Lattacher I
9 bedrooms, 20-22 guests
In the centre, Ski-in/Ski-out
Skiarea Ski Arlberg:
1300-2800 meter
88 skilifts, 300 km of slopes

Room composition
- 7 x 2-pers. room with shower/toilet
- 2 x 2/3-pers. room with shower/toilet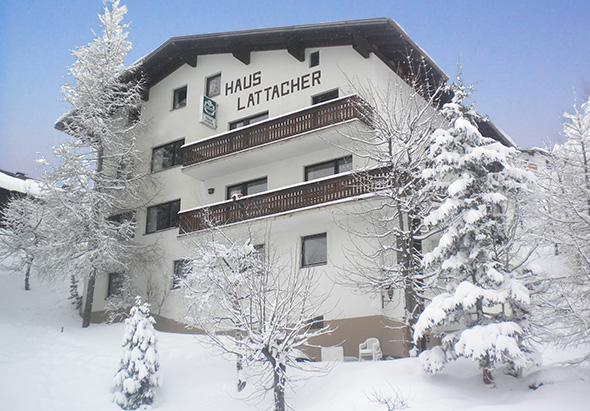 Right at the entrance of the Arlberg tunnel and at the foot of the Arlberg pass, at a height nearly always guaranteed of snow, lies the small and quaint town of Stuben. A handful of hotels, including a four-star hotel and a guesthouse dating from 1739(!), and two dozen typical Austrian bed & breakfasts characterise the town's image.

Stuben appears to have come straight from a postcard: narrow streets, a small church and metres of snow covering the rooftops. Indeed, there is plenty of snow, still considerably more than in the also well-endowed St. Anton. On Stuben's slopes there is guaranteed skiing or boarding until late April.
"Affordable and cosy town with direct lifts to Ski Arlberg"

The Albona lift, which is right next to the chalet, will take you directly to the skiing zone. From there you can descend to, for instance, St. Anton or St. Christoph. After and next to skiing, Stuben offers what is to be expected from a small town: a relaxed after-skiing scene, nice cafes, a number of good restaurants. Of course, if you're looking instead for the worldly bustle of St. Anton or Lech's 'chic', you won't be left wanting either.

Haus Lattacher
Haus Lattacher is located just past the small church, next to the lift on a road that is really only traversible on foot in winter. You can park your car for free on the town's parking lot after storing your baggage.

Haus Lattacher is divided into 2 separate chalets. Haus Lattacher II comprises the chalet's first floor. It has 3 rooms with own shower/toilet and of course its own cosy Stube.
Haus Lattacher I
Lattacher I comprises the second, third and fourth floors of the chalet. It has 9 rooms with private shower/toilet and its own cosy Stube, too. From here, you'll have a gorgeous view of the valley and a direct view of the slope, which ends near the house.
Of course, it's possible to book both parts of the chalet together (Haus Lattacher I & II) for groups of 24 people and upwards, but as an example, you can also book Haus Lattacher II with an extra rooms in Haus Lattacher I so you can accommodate 8-9 people in Haus Lattacher II.